Alpha Networks Launches Next Generation 5G Network Solutions at the MWC 2019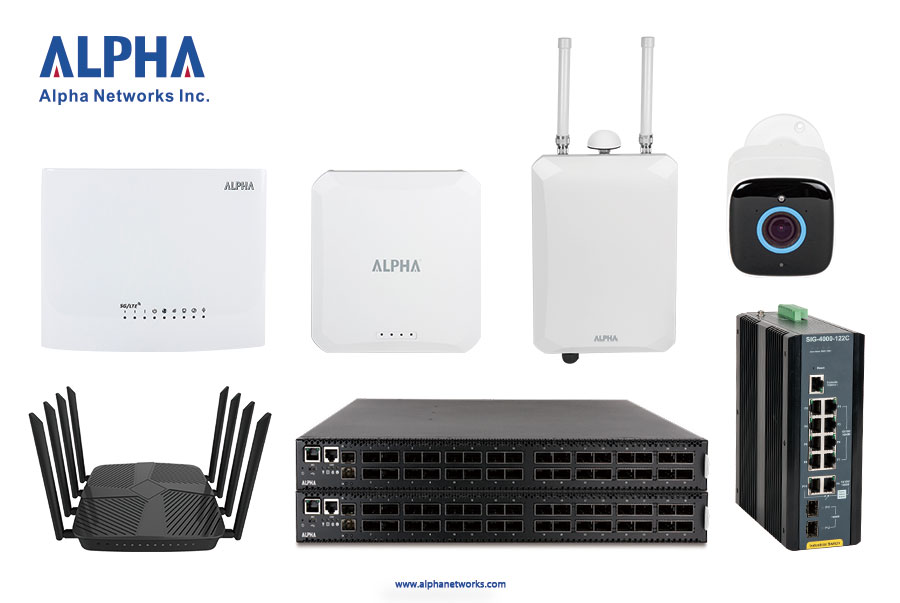 The Mobile World Congress 2019 (MWC 2019) will take place in Barcelona, Spain from February 25 to 28. In this year's MWC, Alpha Networks will showcase the next generation of 5G network solutions in the Taiwan Pavilion, including cloud-accessing wireless equipment (Cloud-RAN), terminal equipment of 5G small cells and routers, high-speed network switches, and multimedia monitoring devices. With advanced, high-speed, and flexible network products that meet the diverse requirements of clients from the telecommunication, enterprise, and household markets, Alpha Networks' 5G terminal equipment have successfully established a strong foothold in the international market, helping customers build a variety of smart city applications.
"5G is designed for the digital transformation of all industries,'" said John Lee, the Chairman of Alpha Networks. "5G will boost Taiwan's ICT industry once again because of its three major advantages, higher speed (eMBB), broader application (mMTC), and shorter latency (URLLC). Different security specifications and network configurations can be customized for a wide range of applications, such as smart factories and smart energy management. In addition, applications utilizing vertical application services and the industrial internet can be developed because 5G will be everywhere and seen in all industries. At Alpha Networks, we vigorously develop more advanced 5G network technologies to provide our customers with complete network equipment solutions and give ourselves the opportunity to enter the telecommunication, cloud, and IoT markets. This is a once-in-a-lifetime opportunity since the invention of the telephone that we must seize."
For telecommunication and enterprise clients, our cloud-accessing wireless equipment (Cloud-RAN) incorporate the characteristics of mobile edge computing in order to provide telecommunication clients with flexible system deployments and operations, which in turn significantly reduce the cost of communication equipment deployment. Cloud-accessing wireless equipment can further be tailored to serve as the enterprise network for different industries. This offers enterprise users the capability to not only operate and manage their businesses securely, privately, efficiently, and conveniently, but also to utilize diverse and flexible application models by combining such with different software.
In the category of smart city applications, we showcase network terminal equipment and 5G small cells and routers. Seamless networking and tracking will become possible once connection with NB-IoT is established, providing the capability of smart monitoring of fire protection, medicine, policing systems, and industrial automation equipment. Once Big Data is integrated with the back-end system for massive data analysis, it can widely be adopted in utilities or energy management to provide first-hand, real-time smart monitoring to managers.
Among the Taiwanese vendors attending this year's MWC, we are one of the few companies capable of offering complete network equipment solutions. We proudly offer products ranging from high-speed network switches and 5G terminal equipment to commercial and household multimedia monitoring products that are favorably reviewed and trusted by major international enterprises. In the future, we will pioneer the way towards becoming the leading 5G network equipment supplier as well as the best network equipment partner for telecommunication and vertical network application clients.
About Alpha Networks Inc.
Alpha Networks Inc. was founded in 2003 and is currently the largest professional network equipment manufacturer in Taiwan. With years of profound experience in product development and design, Alpha Networks has been a major service provider for network product design, development and manufacturing for renowned global brand names. The company's product line covers area/urban networks, wireless broadband networks, digital multimedia and corporate mobile solutions and so forth. Alpha Networks' headquarter is situated in Hsinchu Science Park in Taiwan and it operates three major R&D centers around the world, along with subsidiaries in North America, Japan and China. For more information on Alpha Networks Inc., please visit www.alphanetworks.com.
News Contacts
Ann Chen 
Phone:+886-3-566-5026
E-mail:Ann_Chen@alphanetworks.com