Global Presence
Macroscopic Overview with Local Support.
Macroscopic Overview with Local Support
Alpha Networks embraces the opportunities of the global marketplace with strategically located R&D centers in Taiwan and China.
There are manufacturing bases in Vietnam and China, equipped with the latest manufacturing equipment and testing instruments, large-scale production, flexible scheduling of production capacity, and strict quality control.
In addition, we have established branches across Taiwan, U.S.A., Japan, and China to provide flexible and efficient local service.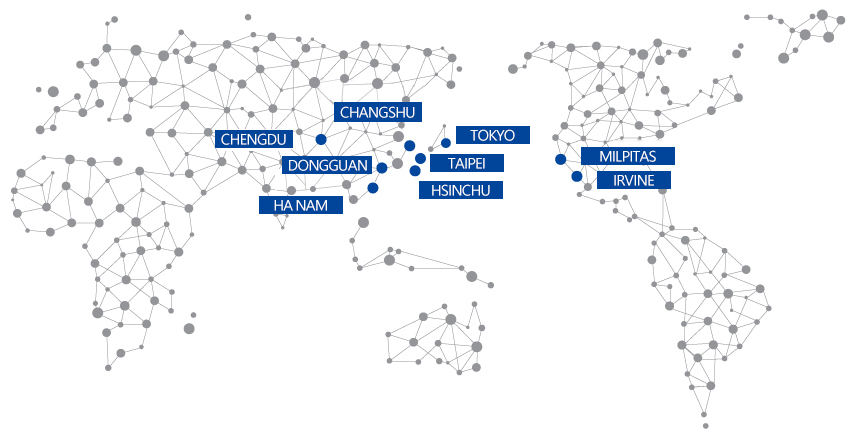 Headquarters:Hsinchu Science Park, Taiwan
Alpha Networks Inc.
Tel:+886-3-5636666
Fax:+886-3-5636789
Add:No. 8, Li-Hsin 7th Rd., Hsinchu Science Park, Hsinchu 300094, Taiwan, R.O.C.
Manufacturing : Hsinchu Taiwan , Dongguan China, Changshu China, Ha Nam Vietnam
Alpha Networks Inc.
Tel:+886-3-5636666
Fax:+886-3-5636789
Add:No. 8, Li-Hsin 7th Rd., Hsinchu Science Park, Hsinchu 300094, Taiwan, R.O.C.

ALPHA NETWORKS (DONGGUAN) CO., LTD.
Tel:+86-512-52156789
Fax:+86-512-52156688
Add:Xingang Road, Xin'an Area, ChangAn, Dongguan City Guangdong Province, China

ALPHA NETWORKS (CHANGSHU) LTD.
Tel:+86-512-52156789
Fax:+86-512-52156688
Add:No.6, Yintong Road, National New & Hi-Tech Industrial Development Zone, Changshu, Jiangsu Province, China

ALPHA NETWORKS VIETNAM COMPANY LIMITED(Factory A)
Tel:+84-226-3967700
Fax:+84-226-3967711
Add:Lot CN03, Dong Van 4 Industrial Park, Dai Cuong Commune, Kim Bang District, Ha Nam Province, Vietnam

ALPHA NETWORKS VIETNAM COMPANY LIMITED(Factory B)
Add:Lot CN03, Dong Van 4 Industrial Park, Dai Cuong Commune, Nhat Tuu Commune, Kim Bang District, Ha Nam Province, Vietnam
R&D Center : Hsinchu Taiwan , Taipei Taiwan, Chengdu China
Alpha Networks Inc.
Tel:+886-3-5636666
Fax:+886-3-5636789
Add:No. 8, Li-Hsin 7th Rd., Hsinchu Science Park, Hsinchu 300094, Taiwan, R.O.C.

Alpha Networks Inc.-Taipei Office
Tel:+886-2-55599369
Fax:+886-2-55599369 #3800
Add:7F., No.68, Ruiguang Rd., Neihu Dist., Taipei City , Taiwan

Alpha Networks (ChengDu) Co., Ltd.
Tel:+86-28-87323668
Fax:+86-28-87300889
Add:Building D15, No.168, Guangfu Road, Industrial Centralization Development Zone, Chengfei Highway, QingYang Dist., Chengdu, China
Sales Office : Hsinchu Taiwan , Milpitas California USA , Tokyo Japan , Changshu China
Alpha Networks Inc.
Tel:+886-3-5636666
Fax:+886-3-5636789
Add:No. 8, Li-Hsin 7th Rd., Hsinchu Science Park, Hsinchu 300094, Taiwan, R.O.C.

Alpha Networks Inc.
Tel:+1-408-8448850
Fax:+1-408-8448841
Add:1551 McCarthy Blvd., Suite 201, Milpitas, CA 95035, USA

Alpha Solutions Co., Ltd.
Tel:+81-3-54349678
Fax:+81-3-54349868
Add:10F 8-8-15 Nishigotanda, Shinagawa-ku, Tokyo 141-0031, Japan

ALPHA NETWORKS (CHANGSHU) LTD.
Tel:+86-512-52156789
Fax:+86-512-52156688
Add:No.6, Yintong Road, National New & Hi-Tech Industrial Development Zone, Changshu, Jiangsu Province, China
Service Center : Irvine California USA
Alpha Technical Services Inc.
Tel:+1-949-486-5500
Fax:+1-949-486-5510
Add:7 Cushing , Irvine, CA 92618,USA