Key Technologies
In-House development with a diverse portfolio of off-the-shelf and custom solutions.
In-House Development , the Most Comprehensive Product Lines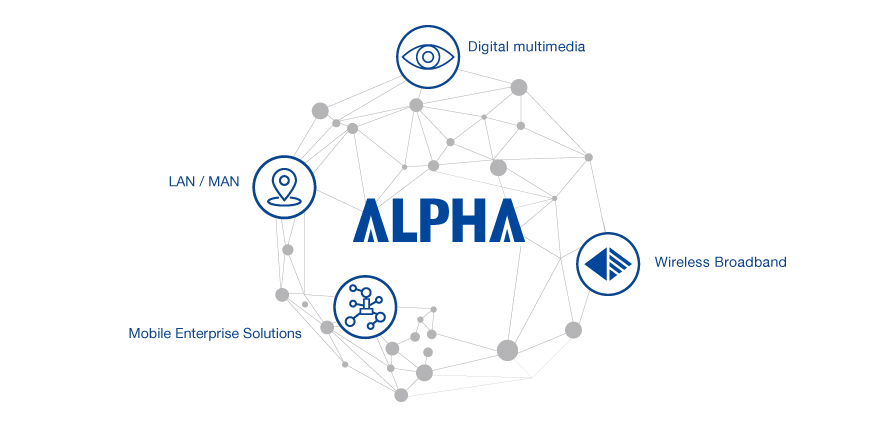 Alpha Networks Inc. has the broadest spectrum of technologies and product portfolios in the industry.
Our product offerings spread across the LAN/MAN, Mobile & Broadband, Wireless, Digital Multimedia and Enterprise Mobile Technology categories. Alpha's vertical integration capability also enables us to provide one-stop shop, total solutions that benefit customers with a combination of efficiency and quality.
In-house Software Development
Among our peers, Alpha possesses unparalleled software design capability based on the strength of more than 600 software designers, and the source codes of hardware drivers, core programming, and user interface software. Consequently, we can offer custom software designs that are tailored to different countries' circumstances and customers' specific requirements, which can enhance the performance and reliability that are essential to creating added value for products.
Experienced Hardware Development

With more than 1000 R&D and verification professionals, Alpha is capable of developing all kinds of products, from Mega Data Center Switches, Large-Sized Blade Switches, to Broadband or Wireless Modules with complex architectures. In addition, our strength in delivering easy-to-manufacture designs shortens time-to-market and EMC/safety testing schedules, thereby enabling us to better satisfy customers.
Superior Mechanical Design

Innovation is one of the main philosophies encouraged at Alpha Networks.
Mechanical design finesse is implemented throughout the development and manufacturing procedures of each product. With highly experienced in-house mechanical designers, Alpha Networks is capable of handling aspects from the industry design and interior mechanical design all the way to the thermal simulation to deliver a sophisticated and sustainable product to customers. Alpha Networks continuously and attentively place high value in the mechanical design to fulfill customer expectations
Consistent Focus on New Product Development
By leveraging and integrating a variety of networking technologies in the areas of Switches, Wireless, Mobile and Broadband, Digital Multimedia, Home Surveillance and IoT technologies, Alpha is able to dedicate more resources to developing new products with a variety of features, and to expand our product portfolio to more high-end applications, including Data Center Switch, Metro Switch, Enterprise Switch, WLAN IEEE 802.11a/b/g/n/ac, 4G Small cell devices, Home storage devices, Network surveillance devices and Intelligent Sensors .