Alpha Networks Poises for 5G Application with New Generation Network Equipment Solutions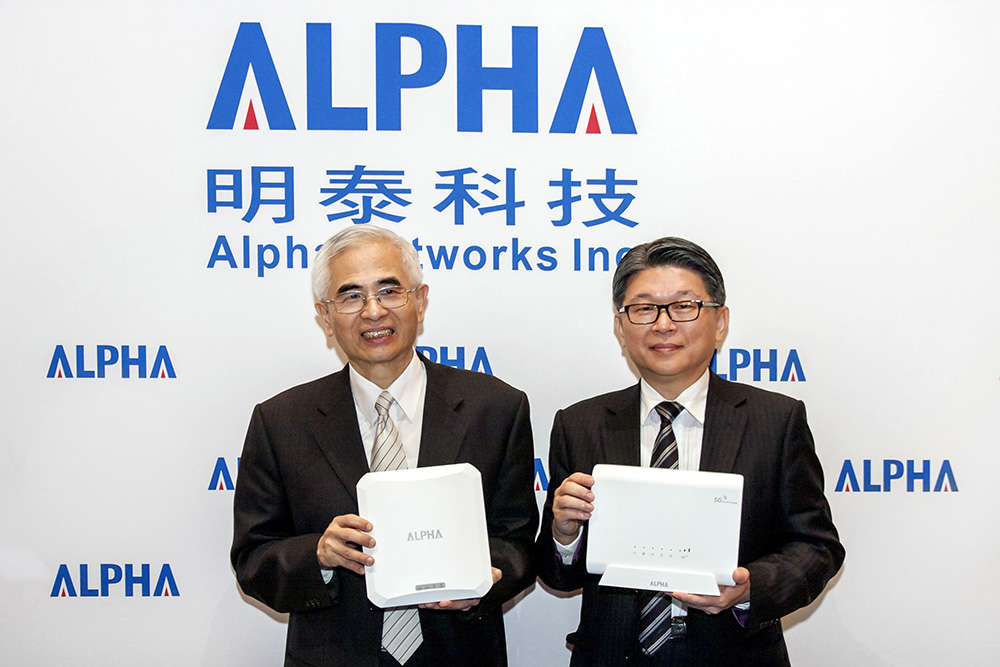 Alpha Networks Inc. (TWSE: 3380), a major network communication company, held its investors conference today (March 20, 2019). The worldwide commercial launch of 5G is expected in 2019 and Alpha is releasing various advanced 5G network equipment solutions, including the automotive radar, 400G high-speed data center switches, and Mobile Edge Computing (MEC) solutions. Alpha Networks, one of the few network communication companies providing end-to-end solutions, will focus on the telecommunication, enterprise, and VoT markets.
John Lee, Chairman of Alpha Networks said, "5G facilitates the digital transformation of all industries, and we are developing our network communication business based on mobile communication at the core. In 2019, we expect upgrades in copper networking from DSL to G.fast, optical fiber networking from GPON to 10G-PON, wireless networking from Wi-Fi 5 (802.11ac) to Wi-Fi 6 (802.11ax), business Ethernet services from 10G to 25G and high-speed data center switches from 100G to 400G, and release these to the market. On the other hand, 5G is driving the emergence of MEC, which will be applied massively to the vertical market. The flourishing of VoT applications, combining Ethernet and 5G, is foreseeable and offers a great opportunity for Alpha to set its goal."
In addition to the smartphone industry, the first application of 5G is fixed wireless access. It can provide high-speed networking services superior to optical fiber networking and will be the major service of telecommunications service providers. Alpha Networks enables telecommunications service providers to deploy last mile services through comprehensive 5G telecommunications network equipment solutions. Alpha Networks' 5G network communication has a successful foothold in the global market. According to a research report by Ovum, it is estimated that 9% of households in North America will adopt to fixed 5G wireless access by 2028. This production value, reaching up to USD 9 billion, promises incredible business opportunities.
For the vertically integrated market, Alpha Networks integrates high-speed switches, small cells, IoT sensing equipment, and millimeter-wave antenna technologies to develop a Cloud-RAN software and hardware platform to create a private network with features that include fast transmission, low cost, and flexibility for companies. With Alpha Networks' assistance, customers have now entered the field testing stage. For smart city applications, through the connection with NB-IoT, Alpha Networks' small cells and routers can run seamless connection tracking. This solution has been introduced into the entertainment, industrial automation, utilities, and energy management industries.
For the VoT market, Alpha Networks is developing 24GHz, 77GHz, and 79GHz millimeter-wave radars. Currently, 24GHz radars have been applied to the ADAS of commercial and passenger vehicles as well as the detection and application of Smart Parking. The high resolution and sensitivity of 77GHz and 79GHz radars make them not only applicable to passenger vehicles, but also perfect for robotic arm sensing in Industry 4.0 smart factories. In the future, Alpha Networks will integrate Ethernet and 5G applications and deploy them to the VoT market.
Alpha Networks will continue to provide high-speed and comprehensive 5G network equipment solutions to its partners.
About Alpha Networks Inc.
Alpha Networks Inc. was founded in 2003 and is currently the largest professional network equipment manufacturer in Taiwan. With years of profound experience in product development and design, Alpha Networks has been a major service provider for network product design, development and manufacturing for renowned global brand names. The company's product line covers area/urban networks, wireless broadband networks, digital multimedia and corporate mobile solutions and so forth. Alpha Networks' headquarter is situated in Hsinchu Science Park in Taiwan and it operates three major R&D centers around the world, along with subsidiaries in North America, Japan and China. For more information on Alpha Networks Inc., please visit www.alphanetworks.com.
News Contacts
Ann Chen 
Phone:+886-3-566-5026
E-mail:Ann_Chen@alphanetworks.com