Alpha Foundation Invites Angel Percussion Band to Stage Charity Performance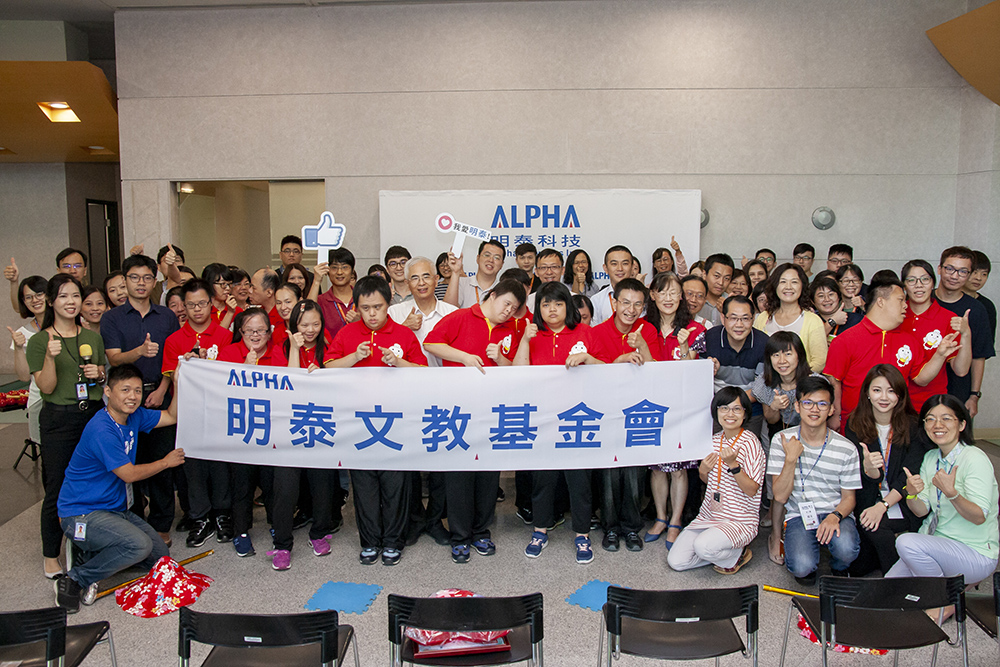 At noon on August 13, 2019, the typically silent lobby of Alpha Networks Inc. was alive with activities, with the melody of "You are My Sunshine" reverberated in the air in the form of percussion music. As it turned out, it was a performance by the Angel Percussion Band, a disabled group from Saint Joseph Social Welfare Foundation. As each member of the band diligently staged a performance using uncoordinated body movements, beads of sweat dripped down their bodies in the sweltering heat, touching the hearts of the audience with their innocent smiles.
The song "You are My Sunshine" is dedicated to Alpha Foundation Chairman John Lee in appreciation of the foundation's support in making this performance possible so that the band members can be remunerated for their efforts and in turn enabling them to be self-sufficient. The percussion band also performed "Standing on Top of the Mountain," "Farm Village Song" and "Jia Ma La Ya," attracting a large audience consisting of Alpha's clients and colleagues with their melodious music. As they swayed to the rhythm of the music, the band members also invited everyone to join the musical feast by shaking the maracas.
Saint Joseph Social Welfare Foundation Director Yung-na Lo suggested that unlike other high-tech manufacturers in the park, Alpha's volunteers are always full of smiles and happy to lend a helping hand, emanating an enthusiastic and gentle demeanor. The company's chairman is also approachable and passionate about social welfare, therefore she expressed her gratitude to Alpha for leading by example in contributing to charity. After the performance, Alpha volunteers transformed into charity bazaar ambassadors to help the Angel Percussion Band sell handmade egg rolls and mooncakes to Alpha's colleagues. The proceeds of the sales will be donated to the Saint Joseph Social Welfare Foundation.
"To be able to stage such performance is no small feat! We were moved by their determination and resoluteness!" Said one of Alpha's colleagues emotionally. Another Alpha colleague also commented that Alpha's activity is very meaningful, as it provides them with an opportunity to engage in social welfare, make contributions to society and appreciate the importance of staying content and grateful. Others suggested that participating in the event is extremely meaningful in the sense that it has provided them with a more profound perspective in life and taught them not to trivialize their infinite potential.
Alpha Foundation strives to uphold the philosophy of giving back to society. It is hoped that the sharing of love and hope by the Angel Percussion Band will encourage everyone to embrace disabled people, so that they can believe in themselves and unleash their self-worth in order to live life to the fullest, in turn making a contribution to make society a better place.
About Alpha Networks Inc.
Alpha Networks Inc. was founded in 2003 and is currently the largest professional network equipment manufacturer in Taiwan. With years of profound experience in product development and design, Alpha Networks has been a major service provider for network product design, development and manufacturing for renowned global brand names. The company's product line covers area/urban networks, wireless broadband networks, digital multimedia and corporate mobile solutions and so forth. Alpha Networks' headquarter is situated in Hsinchu Science Park in Taiwan and it operates three major R&D centers around the world, along with subsidiaries in North America, Japan and China. For more information on Alpha Networks Inc., please visit www.alphanetworks.com.