Alpha Networks to showcase its 5G Enterprise Network Solution at the Automation Intelligence and Robot Show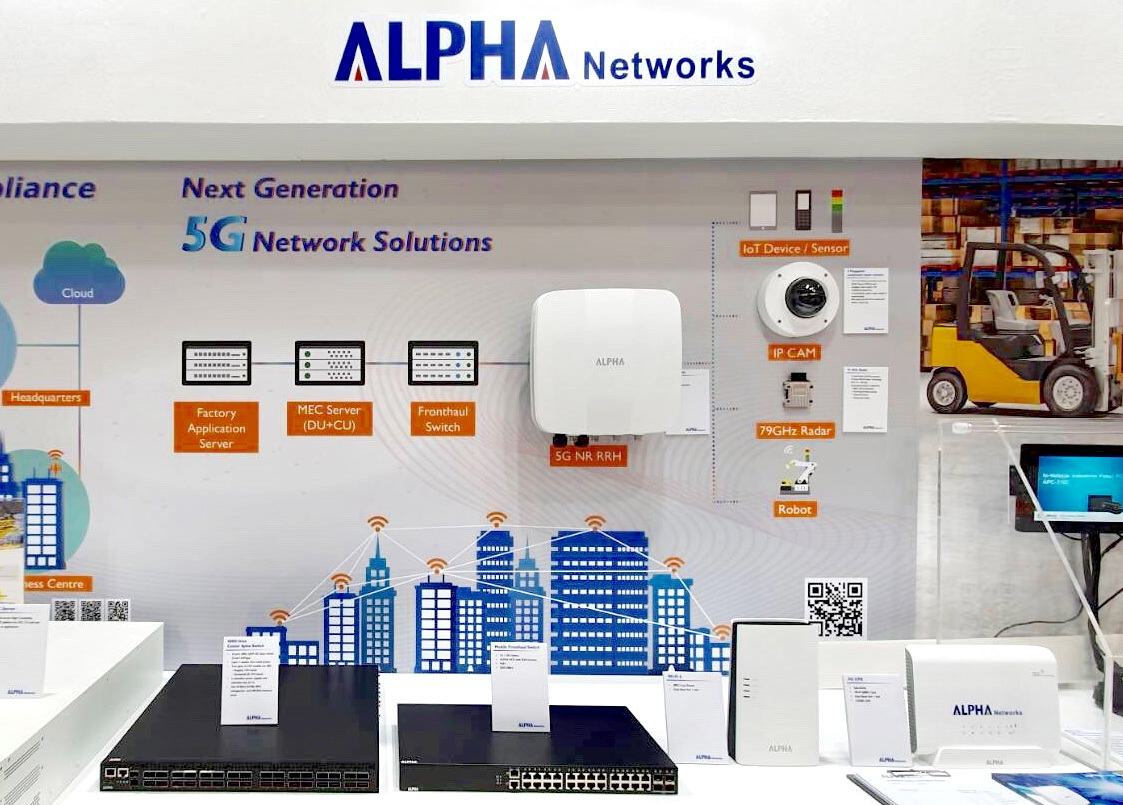 At the 2019 Taiwan Automation Intelligence and Robot Show, Alpha Networks Inc. (TWSE: 3380) and Qisda Corporation will be showcasing the 5G smart factory solution that the two companies have collaborated to develop. With the commercial operation of 5G fast approaching, modern factories with smart manufacturing capabilities will soon witness a change in the architecture of the communication platform due to the many advantages that 5G offers, including high reliability, large coverage, low latency over a single network platform. For the 5G enterprise network solution from Alpha Networks, the company will feature a series of relevant products for the solution, including Cloud-RAN, MEC, Small Cell, 5G sensor and control equipment that will enable customers to construct next-gen communication platform at their production lines.
Leveraging 5G technology's strengths of high speed, low-latency and stable data transmission, Alpha Networks' solution is designed to help customers set up their dedicated private network at their production facilities and effectively establish their industrial IoT with the safety, high bandwidth and low-latency of 5G network, which will boost the speed and efficacy of various operations such as data collection, data transmission, data application and so forth at the factory. By integrating such data with rear-end big data, users will be able to have thorough control over all production data to adequately manage and improve productivity. For example, a customer will be able to monitor specific details such as the level of dust particles, temperature, humidity and relevant equipment at the production line via 5G while engaging in video conferencing with onsite personnel to reduce the frequency of production line downtime due to equipment malfunction and optimize the factory's overall operations.
Alpha Networks is one of the very few network equipment manufacturers in Taiwan with the capability of offering End-to-End solutions. Apart from 5G smart factories, Alpha Networks' other products for Cloud-RAN, small cell, MEC and routers are also designed for the construction of private, closed networks for customers. Such secured intranet allows customers to work with sensitive internal data, audio and video contents in a safe environment. In the future, Alpha Networks will continue to deliver cutting-edge 5G connectivity equipment to help prospective clients across different sectors in Taiwan to begin their digital transition to 5G to help businesses avoid the somewhat messy state of affairs that were the result of wireless network technologies we have seen in the past. For businesses seeking to implement in-depth transitions for promotion of smart factory and smart manufacturing, Alpha Networks' solutions are indispensable.
News Contacts
Ann Chen 
Phone:+886-3-566-5026
E-mail:Ann_Chen@alphanetworks.com