Alpha Foundation Donates IP Camera to Pinglin Elementary School – Protecting Campus Safety through Technology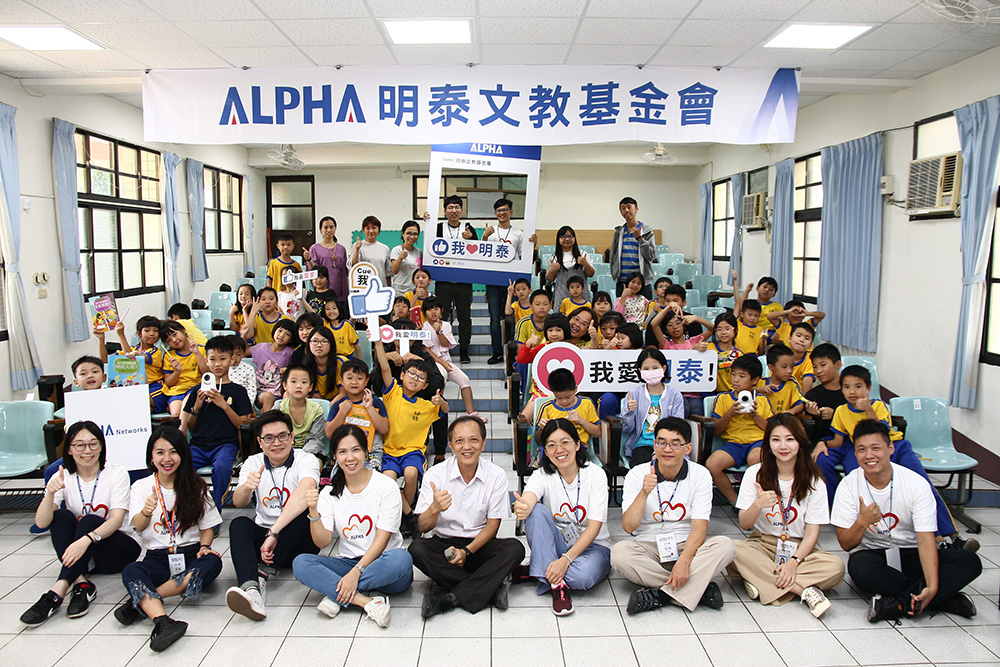 Network Communication Expert Lecture Promotes AI Education – Students Happily Experience the Facial Recognition System
Elementary schools in remote townships are also protected by high-tech bodyguards! Alpha Foundation donated 5 IP cameras to the Pinglin Elementary School in Guanxi Town, Hsinchu County today (24th) to monitor every corner of the campus in order to improve safety. In addition, Alpha also organized the Network Communication Expert Lecture, where corporate volunteers helped design AI teaching solutions for children, allowing them to experience the facial recognition system and understand the concept of machine learning and deep learning. It is hoped that the activities will be able to seamlessly introduce technologization, digitization and AI into the everyday life of school children in remote townships.
According to Alpha Foundation Chairman John Lee, Alpha Networks Inc. has several decades of experience in the field of network equipment manufacturing, therefore it is hoped that the company can capitalize on its expertise to make contributions to the society. Last year, Alpha utilized network communication equipment, such as switches, small cells and wireless routers, to help optimize Pinglin Elementary School's backbone and create a wireless teaching environment. This year, Alpha wishes to use this network platform in conjunction with the company's IP camera products as well as cloud monitoring and application to ensure the safety of school children. On the other hand, the aim is also to bridge the technology education divide for remote township elementary schools, so that they can keep abreast of the current developments around the world.
Pinglin Elementary School Principal Hsiang-szu Chung commented that remote township schools lack the necessary resources for security monitoring and the surveillance system of some corners of the campus needs to be reinforced. He is thankful for Alpha Foundation's donation of IP cameras, Pinglin Elementary School can now enjoy high-tech protection just like expensive private schools. Moreover, Alpha's corporate volunteers also introduced AI to the children in an easy to understand manner, thereby strengthening their soft power in the field of technology. This is an invaluable learning experience for the children living in remote townships.
One of the students of Pinglin Elementary School stated that after the installation of the IP cameras, the school will become a safer place as if every corner is protected by a private bodyguard. Another student said that the courses arranged by the Alpha volunteers were really interesting because they were able to experience the facial recognition system and appreciate the AI's capability in biometrics identification. Everyone truly enjoyed the activity!
In the future, the Alpha Foundation will continue upholding its goal of contributing to society based on the company's mobile communication core competence. Furthermore, network equipment will be provided along with corporate volunteers to promote technology and network communication education. It is the company's ambition to bring together people's benevolence using its expertise in network communication in order to engender warmth and hope.
About Alpha Networks Inc.
Alpha Networks Inc. was founded in 2003 and is currently the largest professional network equipment manufacturer in Taiwan. With years of profound experience in product development and design, Alpha Networks has been a major service provider for network product design, development and manufacturing for renowned global brand names. The company's product line covers area/urban networks, wireless broadband networks, digital multimedia and corporate mobile solutions and so forth. Alpha Networks' headquarter is situated in Hsinchu Science Park in Taiwan and it operates three major R&D centers around the world, along with subsidiaries in North America, Japan and China. For more information on Alpha Networks Inc., please visit www.alphanetworks.com.