32-port 40GE QSFP+ Data Center Top of Rack Switch (SNQ-60x0-320F)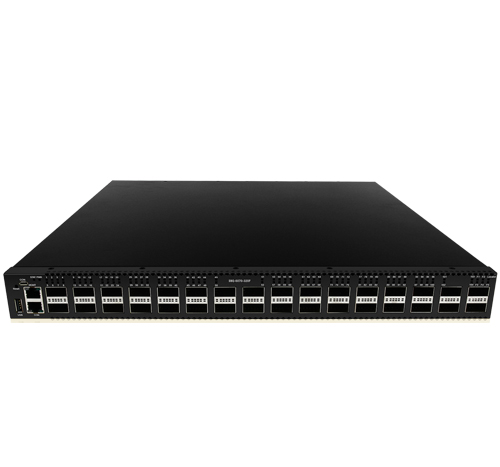 Key Features
32 QSFP+ ports with 40Gbps wire-speed.
Modular CPU board with large flash and memory.
Temperature warning system.
Readable software thermal monitor.
Real-time Clock (RTC) support.
Two hot-swappable redundant power supply module ports, with one power supply module included.
Five hot-swappable redundant fan module ports, with four fan modules included.
One 10/100/1000 Mbps Out-Of-Band (OOB) management port.
One RS-232 to RJ-45 serial console port.
One Micro USB console port and one USB storage port.
Specifications
Technical

Switching Capacity: 2560 Gbps.
Max. Forwarding Rate: 1920 Mpps
Jumbo Frame: 12KBytes
Forwarding Mode: Selectable:
- Store and Forward
- Cut and Through
Hardware Tables and scalability
- Packet Buffer memory: 12Mbytes
- MAC Entries: 32K min./288K max
- L2 MC: 16K
- VLAN entries: 4K
- ACL entries: 4K

Physical

Number of power supply: 2, (default load Power 2 only)
Power supply types :
- AC (forward and reversed airflow)
- DC (forward and reversed airflow)
Max. Operating power: Max. 239W
Maximum power 456W (From Power Supply)
Number of Fan Module: 5
FAN tray:
- Provide reversible airflow option (front-to-rear or rear-to-front) by different fan
tray modules.
- Support n+1 redundancy.
- Shipment with 4 front-to-rear airflow fan trays by default.
- Support software fan speed control

Environmental

Dimensions (height x width x depth): 44mm(H) x 440mm(W) x 487.4 mm(D)
Weight: 9.29 kg, include 2 PSU and 5 FANs
Operating temperature: 0~45°C
Storage temperature: -40~70°C
Operating relative humidity: 0%-95% RH
Storage relative humidity: 0%~95% RH
Altitude: 3000m

ONIE Support
*For any inquiry , please contact Ms. Jo Chang, e-mail: jo_chang@alphanetworks.com /TEL: +1-408-844-8850 ext.5289
download
related products