About Alpha
Our guidance is Integrity, Teamwork, Excellence, Innovation.
Design , Manufacturing, Service (DMS)
Founded
September, 2003
Headquarter
Hsinchu Science Park, Taiwan
IPO
2004, Taiwan Stock Exchange
Paid-in-Capital
NT$ 5.44 bln ( US$ 186 mln)
Number of Employees
More than 4,100
R&D Centers
Hsinchu, Taiwan; Taipei, Taiwan; Chengdu, China; Irvine, U.S.A.
Manufacturing Locations
Hsinchu, Taiwan; Dongguan, China; Changshu, China
Sales Locations
Taiwan, U.S.A., Japan, and China
Business Model
Design、Manufacturing、Service (DMS)
Business Philosophy
Guided by core values of integrity, teamwork, excellence, and innovation; Alpha Networks Inc. is dedicated to balancing technology with humanism as it pursues a company-wide commitment to become a world-class DMS that contributes to the improvement of living quality with innovative networking technologies.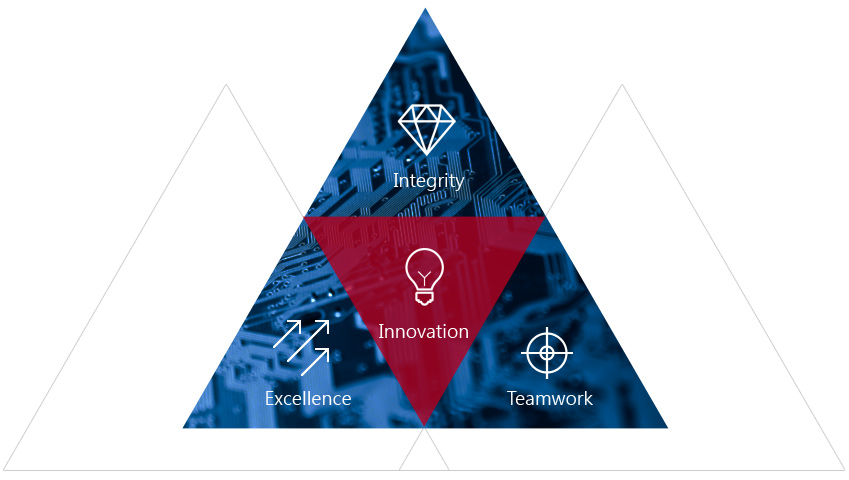 Innovation

Technology Innovation: Maintain progress in product development to forge strong competitive position.
Enterprise Innovation: Implement business reforms to provide superior products and services to customers.

Excellence

Aggressiveness:

Foster a keen sense of observation and never avoid difficulties when seeking to obtain the truth.
Diligence: Work hard and continue to progress.
Thrift: Place emphasis on efficiency and never be wasteful.
Concentration: Always endeavor for perfection and enhancement of value.

Integrity

Glory: Maintain strict discipline and strive for excellence to achieve team objectives.
Commitment: Always keep promises and honor commitments without shirking responsibilities.

Teamwork

Unity: Abide by team decisions and implement them with full support.
Partnership: Establish strategic partnerships with mutual trust and honesty to achieve long-term success.